As some of you may already know, I'm kind of a petrol head in the sense that I like supercars, especially Aston Martins. I also consider myself very lucky to have a job as a driver for a rental company that offers driving experiences with exclusive car makes and models. As a driver I've experienced more different makes and models than most of you and I've had the pleasure of driving quite regularly in Aston Martins, which is an unforgettable experience that everyone should do at least once in their life.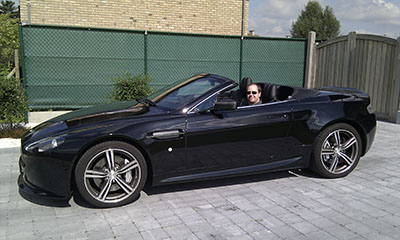 While I still love driving these cars, there is the growing environmental issue with these kinds of cars in the sense that they do emit quite a bit of CO2. Our Belgian government also isn't keen on these cars, so huge taxes are applied on these cars because of their pollution factor. And then they add a "jealousy" tax to tax you on the fact that you can afford such a car. So you've been working very hard to save up to the point that you can buy such a car, but then get punished for investing in the economy by buying such a car. Go figure… 🙁
While my heart still lies with Aston Martin, I've been a huge fan of Tesla Motors ever since they came out with the Roadster. Although it was a very impractical car for a family guy like me, it proved that electric cars could really be … electric! When they came out with the Model S, it became very attractive to me to buy one, but still way too expensive for my wallet.
On October 10, 2014 Elon Musk unveiled "the D", a dual motor version of the Model S was announced, which upgraded it to four wheel drive. That was a big improvement for me, since I see a lot of people in their Mercs or Beemers struggling to slide through the snow with their rear wheel drive cars. (although it doesn't snow that often in Belgium, it is still an important safety feature for me)
The fact that they now have a P85D model, with 691HP and a 0-60 time of 3.2s (confirmed by Motor Trend magazine to actually be 3.1s), is definitely an additional plus. 🙂
As a company and being on the road every day, I do feel some responsibility to the environment, so I was looking into ways of maybe driving all electric. But it had to be feasible in the sense that I wanted a decent quality car with a range that would not only let me drive my daily commute, but also allows me to take my family comfortably on vacation abroad. Since Tesla Motors announced their "buy back guarantee" of nearly 40% on a 4-year lease contract, together with the dual motor version and the fact that this is the most technologically advanced car in the world, this car all of a sudden became very interesting as a company car.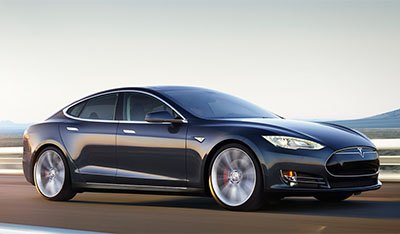 So I went to take a test drive at a local Tesla store (Tesla Motors doesn't work with dealerships. You deal directly with the company). And as other have stated on the web in so many cases, driving the Model S is an experience unlike any other. It's quiet, roomy and comfortable, while at the same time being quite sporty as well. I didn't get the chance yet to drive the P85D monster, but even the normal S85 catapults you forward in an eerie quietness when you hit the accelerator pedal. This feeling takes some getting used to, but I can image this never feeling old.
So, the decision was made to go all electric and buy myself a Tesla Model S. But there is more to the story. This decision was not taken purely from a personal point of view, but also from a business perspective. You see, at the beginning of this story, I mentioned being a driver for a car rental company. Well, they also offer a personal service for airport transfers, business transport, ceremonies etc. So I thought: why not add a VIP limo service in a car that emits zero CO2, is very quiet and roomy and has a very classy look? That way you can travel in style, while considering the environmental footprint of you or your company.
At this point I'm still waiting for my delivery, which is presumable at the end of March. But as of that point, this car will not only provide an electric ride. It will also provide me with an additional job income which is a win-win situation. And what's not to like about that?