What happens if you put 2 crazy Tesla guys together with an idea to do something fun? You get a new world record!
So, a couple of months ago, before I got my P100D delivered, I was already playing with the idea to break the world record of the longest trip in and EV on a single charge. That record was first set by Bjørn Nyland when he took a P85D for a 728.7km spin. A second guy apparently took an 85D on an 880km trip, but admitted having a big downhill section as well, so kudos to the guy doing that, but it is a little bit of cheating IMHO. But that is my personal opinion and you may think otherwise. In either case, we would aim higher than both these records.
My first line of thinking was "this is going to be a piece of cake", because we have a big battery. But when doing a few test runs, it turns out to be a lot harder to get the power consumption so low you can actually drive these vast distances. Of course, I had the performance wheels and tires at that time, so that was a disadvantage in power consumption, but by how much? I'm also driving a Performance version, which is supposed to be less efficient. Or is it? I'll come back to that later…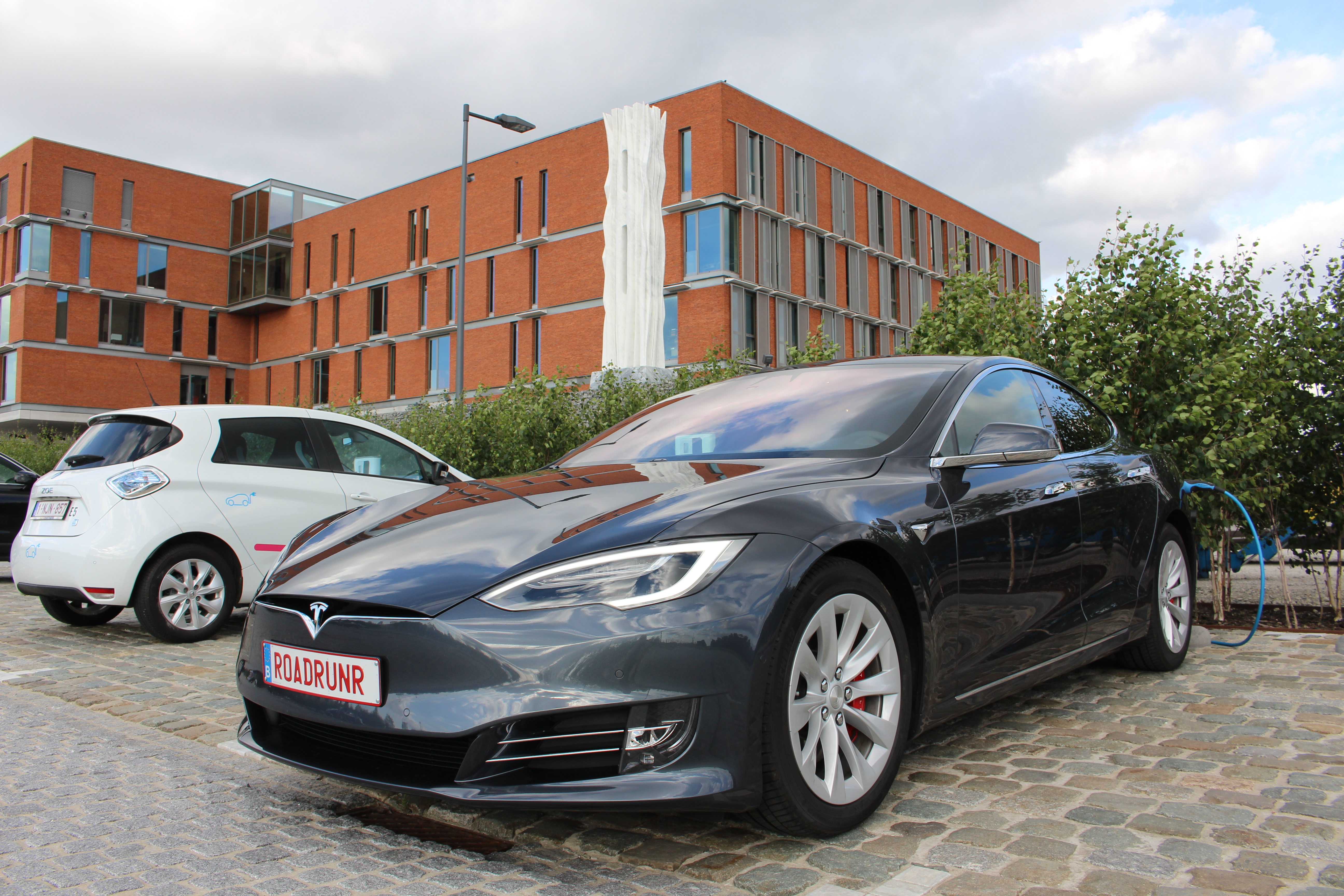 I also had to wait for just the right circumstances, so when I finally got my car in early March, that was definitely not the right time. I was also not planning on doing this alone and luckily a good friend, former colleague and Model X driver, Joeri Cools, was interested in this challenge.
First of all, we had to find a route that would be suitable for the attempt. A route that is as flat as possible, has little to no traffic, no intersections and no traffic lights. That would be ideal. However, we do live in Belgium and on regular roads there is no 10km stretch without any of those. So, that limits the options already. After some searching on Google Maps and Streetview, we arrived at the route below. After that, we fixed a date, based on the weather forecast and I went in search of some 19″ rims and Michelin Primacy tires, which should be the optimal combination.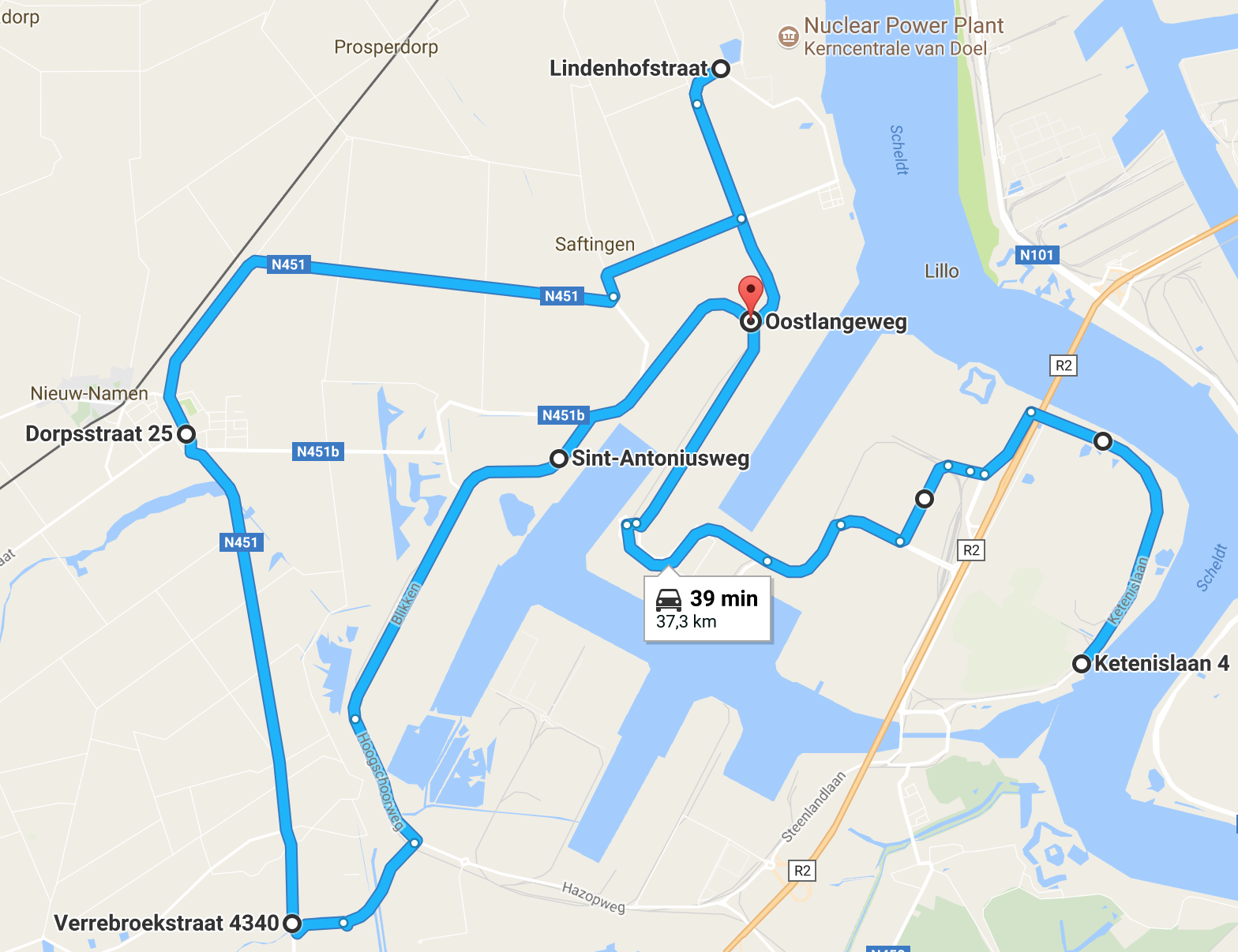 Our starting point was at a 22kW charger, which would also be our finish, to make sure we can get charged up again once we're done with the challenge. From there we drove a small section of road that lead to our main "track", being a 26km closed loop. Although it might be more beneficial to keep driving straight and preferable with a tail wind, our approach had the advantage that we could learn from each round. By the time we finished the attempt, we knew perfectly how to take every turn and roundabout to make sure we drove with the least possible consumption. And we also got to compare each lap at different temperatures, since we'd be driving through the night and the whole following day.
The first few rounds we were really looking at all the different options and what they meant for our power consumption. Of course, A/C was out of the question, but would using the fan only be more efficient than cracking the windows slightly to get some fresh air? Would folding the mirrors be more efficient? What is the optimum speed to drive at? Etc.
You would be surprised to find out that 40kph is actually the most efficient speed. Both 38kph and 42kph already showed quite a difference in consumption. We were definitely not expecting that. As for the other questions, we did learn a lot about driving economically, but we'll keep that o ourselves for now and let the other potential nut cases figure that out on their own :-).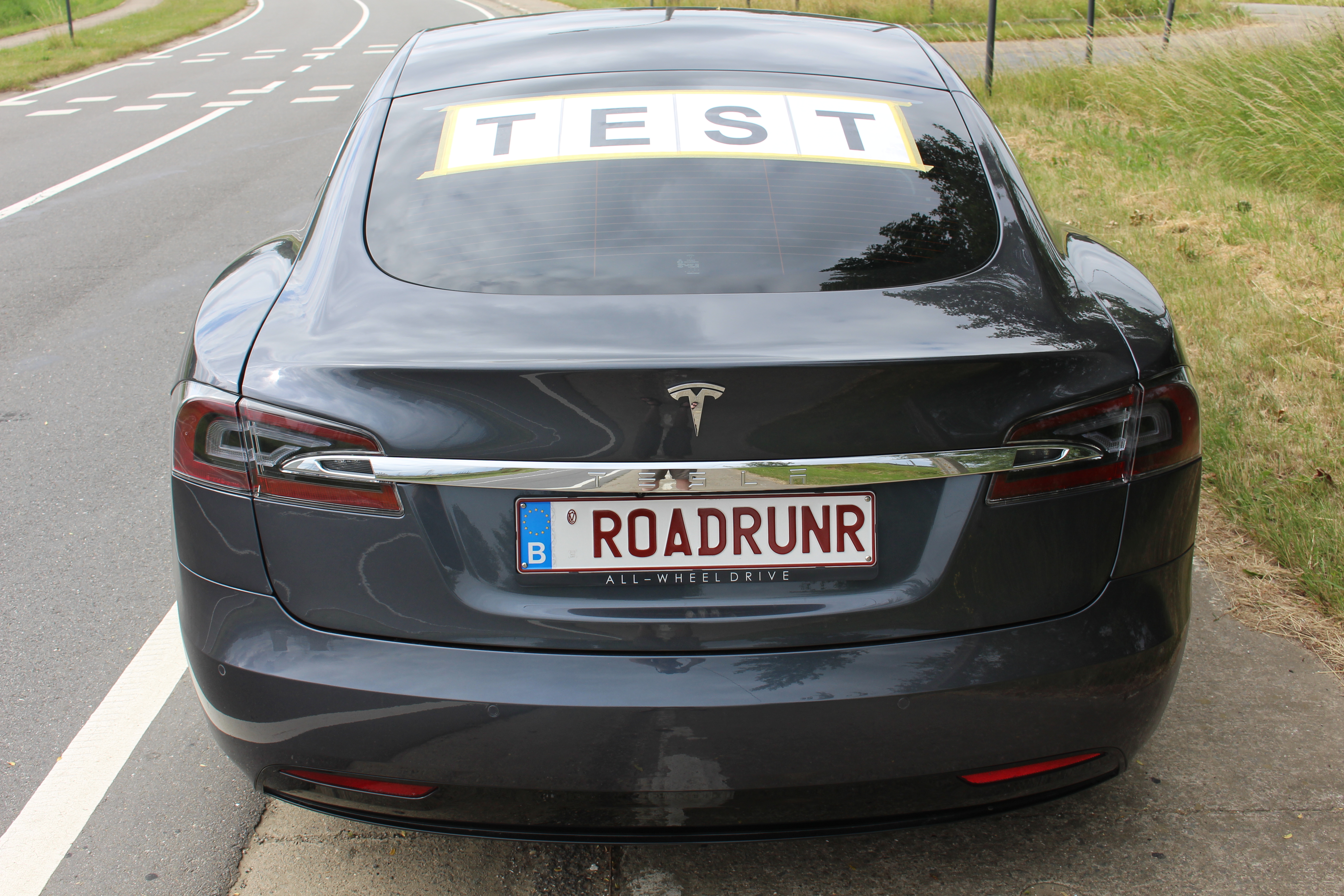 Since we would be driving really slow all the time, we actually put a "TEST" sign on the back of the car to warn other drivers that we were not your regular traffic you'd expect. And it really worked. The few cars we came across, all patiently waited until they could pass us and never did we have someone upset about our driving. Fun story: during the night, there was this van who came up from behind us and instead of passing us, it just stayed behind. We thought it was really strange when all of a sudden, they put on the flashlights.
It turned out to be the cops pulling us over. So, the guy comes up to us, asking about the TEST sign and what we were doing. He actually assumed that we were testing the Full Self Drive version of the car. But as soon as he heard our explanation, he actually apologised for having stopped us and interfering with our test. He would then radio his colleagues to leave is alone for the rest of the attempt. Sometimes the cops can be your friend :-).
As we drove into dawn we were treated with a beautiful scenery of the harbour, but on the other hand, temperatures immediately started climbing fast. It was supposed to be cloudy and about 22°C, but by noon, we reached 25°C with the sun out in full force, piercing through the windows into our (by then soaking wet) bodies. That was definitely not the best part of the journey.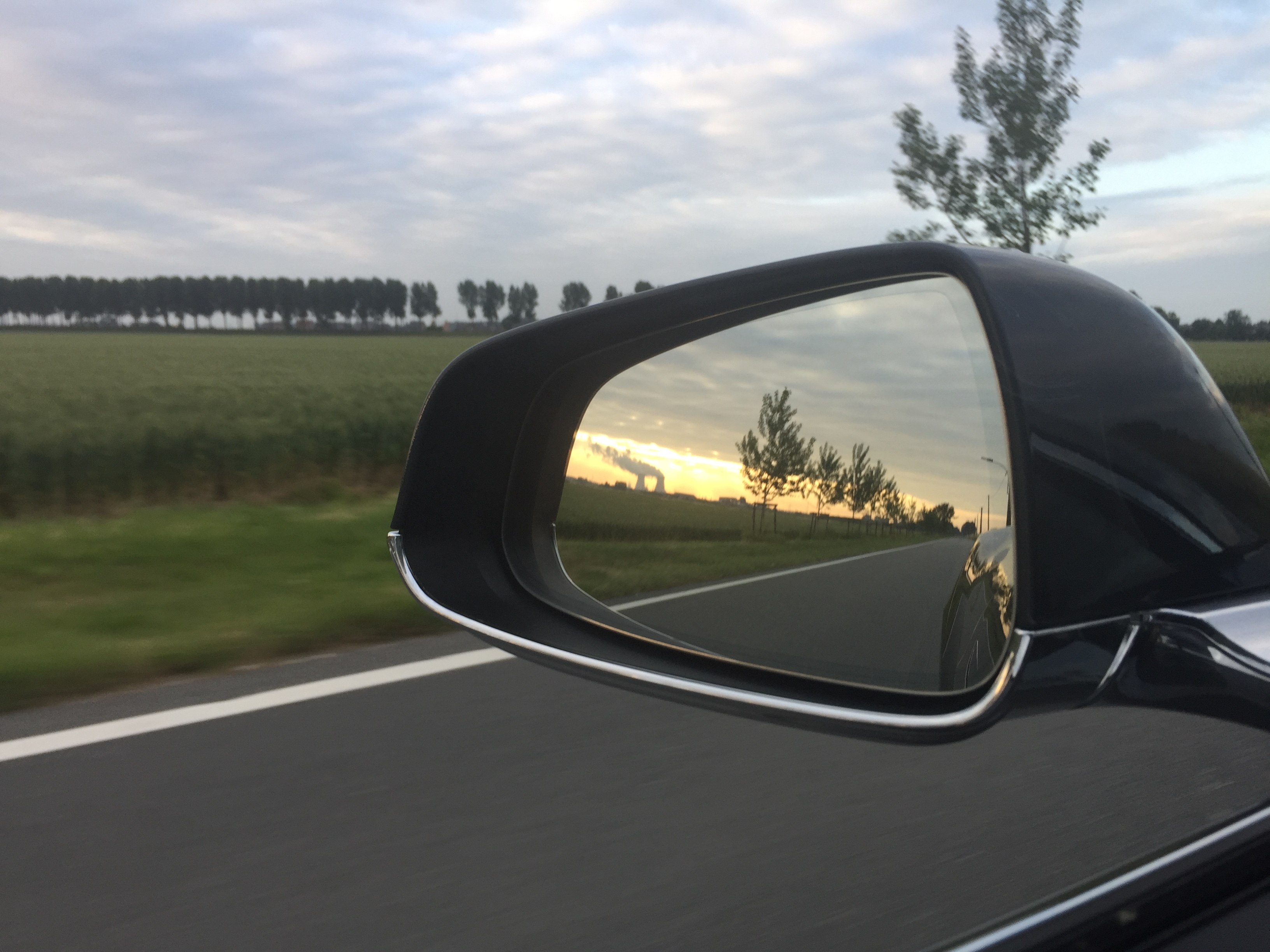 As time went by and we accumulated more and more laps of our "track", we started to become extremely efficient at each and every corner. We managed to get an average efficiency over 50km below 100Wh/km and even had sections where the consumption over 10km dropped to 88Wh/km! We never thought it was even possible to get those values in a car that weighs 2.3 tons.
If that would be something we could have managed from the start, we might even have reached the magic 4-digit range. However, due to variances in temperature, traffic and wind conditions, that would have to be a perfect run in perfect circumstances, which I believe are not possible in our country.
As we reached the 300km mark, we knew we were in trouble, because we would not even break that second record. That was impossible! But the numbers don't lie. We needed to ramp up our game to still make it.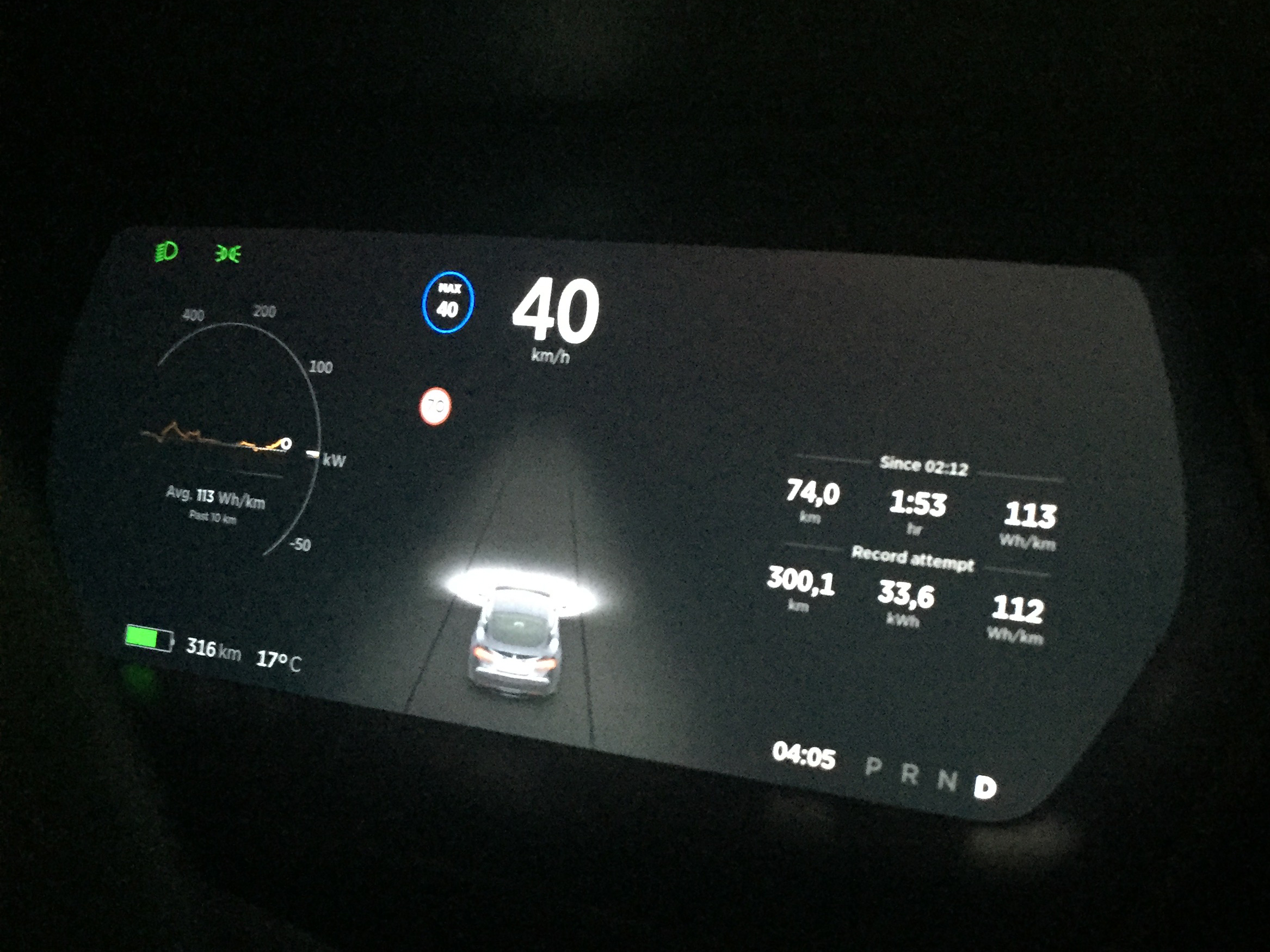 So, we did try harder and harder to get those numbers down, until the sun came to our aid and we saw a dramatic decrease in power consumption as the temperature rose. Below 20°C we saw a decrease of 1-2Wh/km for each degree the temperature rose. Once above 20°C thing became more complicated, so it is definitely not a linear curve. With a few other adjustments, we got the consumption way down and things were looking good again.
Of course, Joeri was not only there to keep me company. We occasionally switched places and he got to drive a bit as well. Unfortunately for me, I cannot sleep in a car seat, so I actually pulled an all-nighter. Joeri, on the other hand, seems to be able to sleep on command, so he got to take a few power naps while I was driving.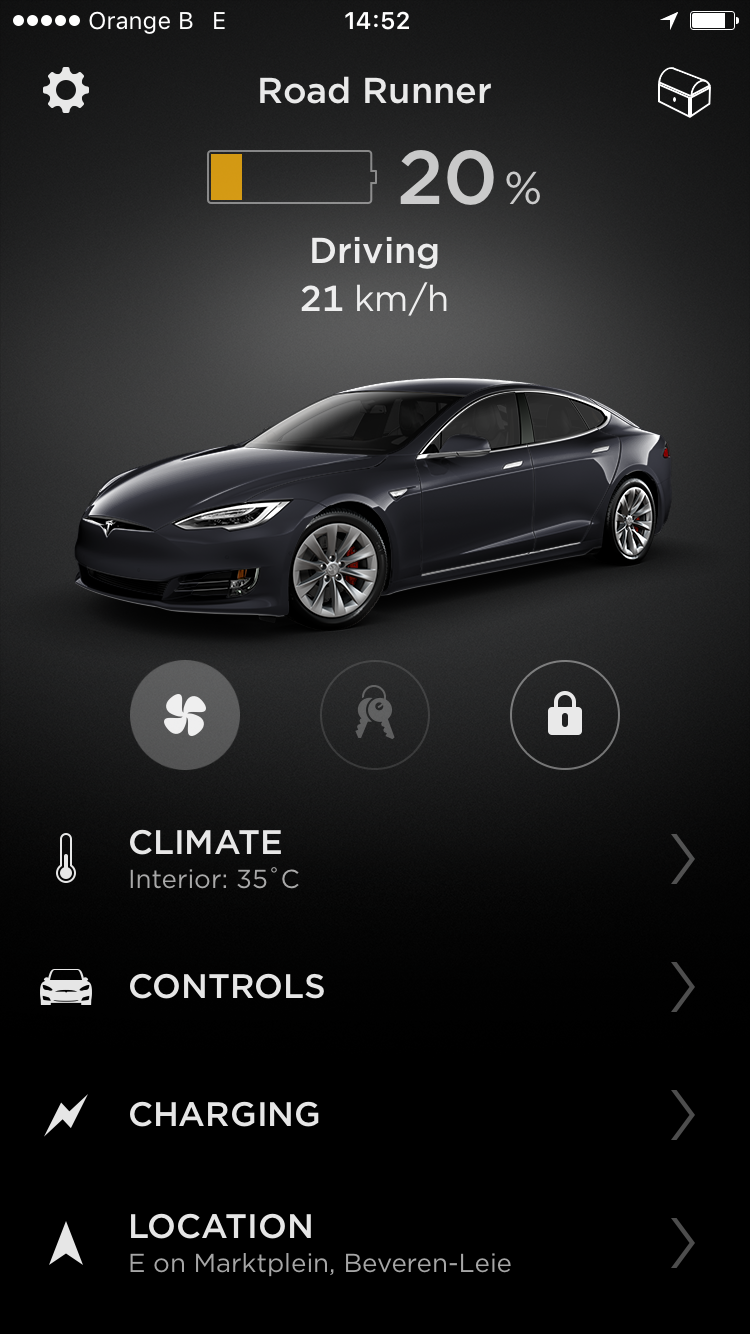 At a certain point during the day, temperatures reached 26°C outside, with the sun in full force, as I explained above already. This caused the temperature inside the car to rise quickly, reaching an unbearable 35°C and even close to 38°C a bit later. I actually took a snapshot of the Tesla app to prove it. It was just like sitting in hell and the sun was really burning. We let a sigh of relief every time we turned back around and had the sun behind us, were the tinted windows provided some protection.
In the meantime, we were closing in on the end and we were thrilled to break Bjørn Nyland's record while still having some energy left. However, when calculating the numbers, we always kept coming out to less than 900km in the end. That was just not acceptable, not with a 100kWh battery. So, we reviewed everything we did all over again because every single Wh we could spare would be necessary.
As we neared the last few kilometres, we abandoned our closed loop and headed out to the charging point again. That road was pretty much empty and although it was not the best road surface, we just didn't want to risk coming to a dead stop in the middle of nowhere. At the point where we were literally running on the last electrons (can hardly use the expression we were running on fumes ;-)), we just drove up and down that road until we saw the battery level drop to 0%. And then we pushed the boundaries slightly by continuing for a few kilometers until we broke the 900km barrier.
At that point, we decided to not take any more chances and headed straight for the charger. 23 hours and 45 minutes was the time it took for this whole endeavour to complete and we were so glad it was over. Don't get me wrong. We had fun along the entire way, but it is a very long drive. In the end we arrived at the charger with 901,2km on a single charge, breaking both world records and moving the goal posts beyond 900km.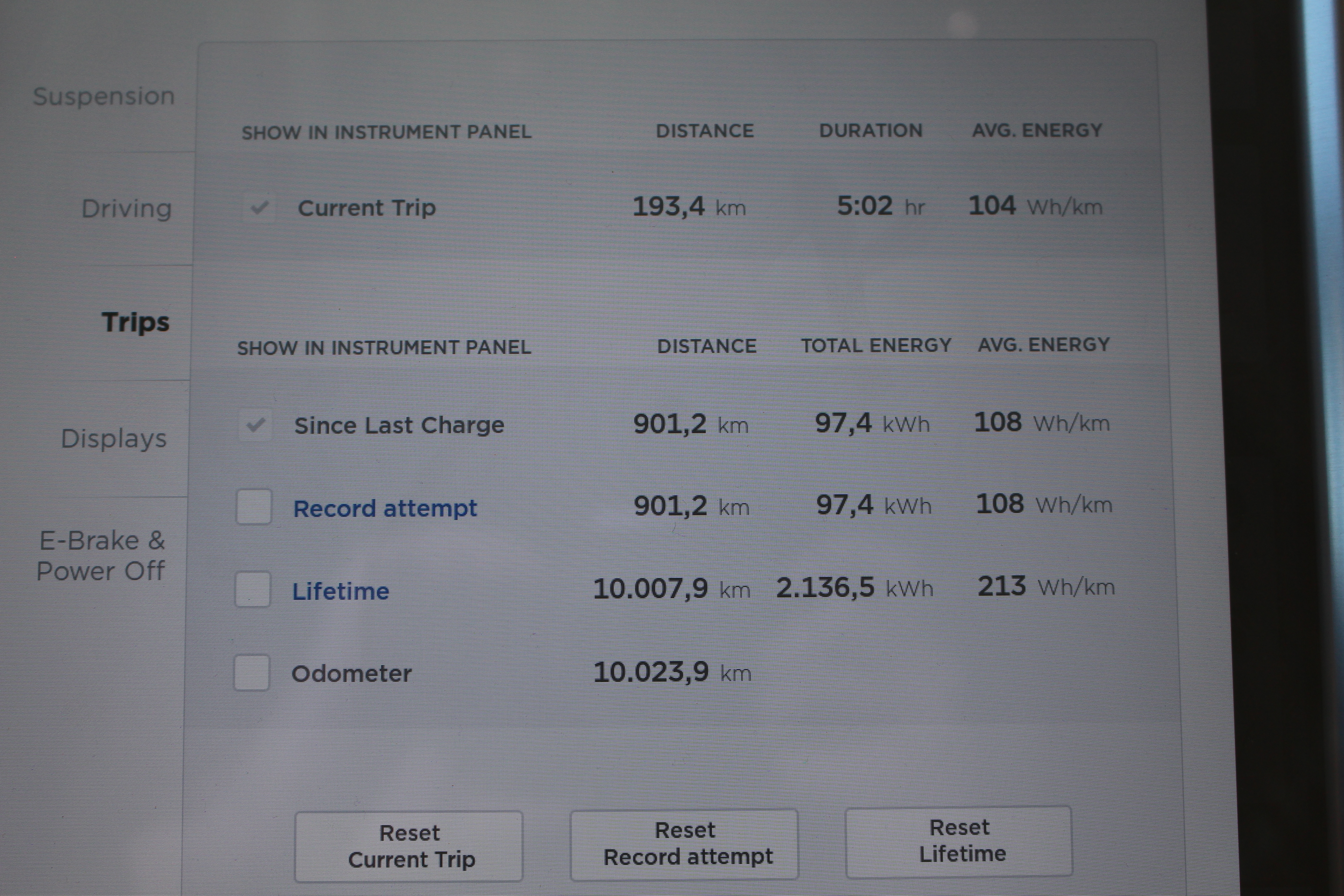 At the beginning of the article, I questioned whether or not the P100D would be less efficient than the regular 100D. You see, the rear motor of the P100D is less efficient than the rear motor on the regular 100D. But in range mode, the rear motor is not used while cruising at highway speeds. If cruising at low speeds and driving very consistently has the same effect, then basically both cars would use the same motor for most of the time during the trip.
There is of course a slight weight difference between both cars, because of the bigger motor. But would it really make much of a difference? I guess someone will have to try to break our record in a 100D to be able to tell for sure. And even then, it would have to be on the same location in the same conditions, unless the difference is so vast it doesn't matter. So, we're not sure if it does make a difference at all. You're welcome to try and prove us wrong. But for now, the quickest production car in the world also holds the record for the longest distance on a single charge…
If this article has inspired you to buy a Tesla, you can use my referral link http://ts.la/steven1007 to get free supercharging or your new or inventory car.